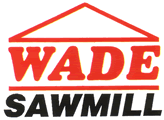 Wade Sawmill is situated just north of Maryborough, Queensland in the Moonaboola Industrial Estate and manufactures a large range of timber products to cater for all applications in the building industry.
We, Robin and Marian Wade, purchased our first sawmill licence in 1981. Robin has been in the timber industry since 1966.
In the beginning, railway sleepers were the main product, then branching out to include landscape sleepers.
Customers became conscious of beautifying their homes and gardens, so landscape sleepers and fencing became very popular, and still are today.
We built a new mill in 1984 to enable us to cut sawn hardwood and fencing timbers. These two new products proved very popular with our customers.
We again outgrew our surroundings, and so built a new mill at the present site in 1989. To cater for our customer's needs, a CCA treatment plant has been installed.

The Wade Domestic Product Range for home and garden includes, fencing timbers, fencing palings, rails and posts and sleepers, both in hardwood and pine, and also Wade Tru-Log.
In 2010 a major upgrade was untaken comprising of a weigh bridge, a state of the art computerised treatment system and a docking and stacking system for the pine mill, making an investment of well over 1 million dollars.
In 2012 we added a pine debarker and a automatic hardwood docking system costing 1.1 million dollars.
We attribute our success to the fact that our customers are very important to us, and we always strive to offer a quality product at a competitve price!
From humble beginnings the mill has grown over the years and has become one of the area's most, efficient, progressive mills. Wade Sawmill is situated just north of Maryborough, with a pine rounding mill in Gympie.